Outsourcing professional services provides companies with a competitive edge by reducing expenditures, saving time and enhancing hiring flexibility.
These perks have prompted sharp growth in the outsourcing market. In 2022, businesses have spent over $700 billion on outsourcing, and that figure could rise to $732 billion by the end of 2023.
The following list comprises the top-ranked agencies in the DesignRush agency directory, based on reviews and noteworthy case studies to guide businesses in finding the right agency partner this 2023.
Baunfire - A Digital Agency Specializing in Web
Location: San Jose, CA
Average hourly rate: On inquiry
Notable clients: Google, Swiftly, Nike, Cisco
Expertise: Web Design & Web Development
Located in the heart of Silicon Valley, Baunfire is a digital agency dedicated to creating marketing websites for market-leading brands. A creative team of designers, developers and strategists make up the agency's team of experts.
Their services include:
Website Design
UI/UX Design
Content Management
Website Development
Content Strategy
Marketing Materials
Competitive Analysis
SEO Services
And more
Baunfire offers project-based and agency-on-record collaborations. The former is appropriate for one-off collaborations that call for an agile methodology. The latter is an option for businesses with ongoing web design requirements to support their marketing initiatives.
Every project that the company takes on starts with a discovery phase for a better understanding of their clients' operations. Prior to starting and evaluating each campaign, they plan a specific course of action to achieve corporate objectives and implement UX-centric designs.
Intero - Taking Your Digital Initiatives to Next Level
Location: 10907 Technology Place, San Diego, California 92127, United States
Average hourly rate: Inquire
Notable clients: National Geographic, Oracle, Jaguar, Google
Expertise: Search Engine Marketing, SEO, Digital Marketing
Leading digital marketing firm Intero Digital was a forerunner in the early SEO and SEM industries. Their team strives to overtake a market share from competitors, build brand equity, expand qualified traffic and boost revenue and profit for their clients using proprietary technologies and tried-and-true tactics.

Intero Digital covers the entire marketing funnel with their comprehensive set of solutions, from awareness to brand advocacy.
Services include:
SEO
Paid media
Branding and content
Web dev and creative
Each of these services offers a range of various digital marketing solutions that span the entire customer journey.
Consumr Buzz - Making It Easy To Be Found Online
Location: 200 Lake Avenue, Floor 1, Lake Worth, Florida 33460, United States
Average hourly rate: Inquire
Notable clients: Offshore Express, BSR Legal Group, Launch, PURE Plumbing
Expertise: Social Media Marketing, CRM Consulting, SEO Consultants, WordPress Development
At the heart of Consumr Buzz's philosophy is the core belief that every small business should be easily found online by their target audience.
The team produces uniquely personalized digital marketing solutions for small businesses of any profile and on any budget, through SEO, web design & development, review acquisition, ad campaigns, content creation and everything else in between.
Their services cover:
Web design & development
Digital advertising
Reputation management
Social Media Management
They have provided digital business solutions to 10,000+ companies, making it quicker and easier to establish an online presence.
Location: 230 Birmingham Dr., Encinitas, California 92007, United States
Average hourly rate: $150
Notable clients: Grapeshot, Vertiflex, Epson, CyMedica, StarTrac...
Expertise: Branding, Creative, Web Design, Digital Marketing, Innovid
As a branding and digital marketing firm with 32 years of experience in marketing, ParkerWhite Brand Interactive provided services to Fortune 1000 companies, as well as aspirant start-ups.
The agency has extensive knowledge of developing both B2B and B2C brands. They provide clients with new and cutting-edge ideas, whether it is establishing brand positioning, designing an integrated product launch campaign, or building a website with a lead-generating, social media and online communications plan.
Services include:
Brand strategy
Creative
Website
Digital Marketing
Social Media
Video/TV
They specialize in healthcare, MedTech and lifestyle industries and most commonly work with companies in these fields.
Channel V Media - Breaking Brands into the Market
Location: 167 West 23rd St, New York City, New York 10011, United States
Average hourly rate: $200
Notable clients: Grapeshot, Bluecore, IBM
Expertise: Event Marketing, Website Development, Direct Marketing, Retail Advertising, TV Advertising
The award-winning communications and content marketing firm Channel V Media (CVM), established in 2008, focuses on helping fast-growing media, technology and consumer enterprises launch and gain market momentum.
CVM promotes brands and their goods, transforms C-suite executives into industry visionaries, places clients in the strongest positions to participate in high-value dialogues and generates inbound leads.

The agency excels at:
Public Relations
FinTech PR
Retail Technology PR
Technology PR
Food and Beverage PR
Strategic Planning
Digital
Content
Grapeshot + Oracle, Innovid, Everseen, IBM, Albert Technologies, Pernod Ricard, Embroker, Fortune & Frame are just some examples of Channel V Media's current and former clients.
Kanda Software - Accelerates the Digital Transformation Journey
Location: Boston, MA (HQ), San Francisco, CA and New York City, NY
Average hourly rate: between $60 and $100
Notable clients: Janssen, Accenture, Lookout, Lionbridge
Expertise: App Development, QA, Custom Software Development, UX & UI Design
With over 27 years of expertise, Kanda Software is a full-service application development, data analytics and visualization, DevOps and QA agency that specializes in the creation of unique and time-sensitive solutions.
They provide the following services:
Custom Software Development
Digital Transformation
Mobile App Development
QA & Testing
Frontend Development
UX and UI Design
Big Data and DevOps
The agency contributes a variety of skills to every project, including engineering talent, strict best practices, a dedication to safeguarding clients' intellectual property and the accountability of a US business with more than 20 years of experience.
From Fortune 500 firms to startups in numerous industries, Kanda provides services to businesses of all sizes and specializations.
The agency also works in a variety of industries, including marketing, healthcare, and even hospitality and education.
Design In DC - A Design Agency for the Future
Location: 1101 Connecticut Ave Northwest Suite 450 #94, Washington DC, Washington DC 20036, United States
Average hourly rate: $150
Notable clients: Franchise Cannabis, IT Concepts, Inc., PRISM
Expertise: Responsive Website Design, App Marketing, UI/UX Design, Magento Development
Design In DC makes fully personalized, scalable, manageable websites and apps with a unique twist.
The team is a small agency with an international and local perspective whose primary goal is to expand their clients' online presence by utilizing a variety of tools, strategies and technology.
They bring a new perspective to human-centered design and content that best showcases the services provided by their clients.
Their services include:
Web Design
Web Development
UI / UX Design
Web Applications
Pre-Production
Video Production
Editing / Post-Production
Marketing Strategy
Sales Strategy / Consulting
Content Strategy
UI / UX Design
Design Audit
And more
The agency is known for thoroughly reviewing each deliverable, effectively becoming an in-house extension of any business they partner with.
Diffco - Experts That Scale Businesses Fast
Location: 830 Stewart Drive, Suite #212, Sunnyvale, California 94085, United States
Average hourly rate: $70
Notable clients: FlashGrid and International Business Times
Expertise: Machine Learning, Software Development, Mobile Development, Website Development
With 14+ years of experience developing AI, web and mobile products, mobile app development firm Diffco employs top-tier senior developers who help businesses take the lead in their respective markets.
Any business's applications can be started, accelerated and supported with an emphasis on dependability and trust stemming from a long-term relationship with the agency.
So far, the company has successfully launched 1100+ projects across the world.
A full scope of services covers:
Mobile development
Backend development
Frontend development
AI development
Computer vision development
Their clients count on a team of developers to create excellent, economical solutions with emphasis on the product. The agency works on the construction of the entire project, from concept to advanced technological implementation with ongoing support and development.
Top Notch Dezigns - Focuses on Websites That Convert
Location: New York, NY, Los Angeles, CA and London, UK
Average hourly rate: $150
Notable clients: Long Island University, ATM Advantage, Janey Construction, Rios Interiors Corp
Expertise: Branding, UI/UX, Web Design, Web Development, Digital Marketing, SEO, SEM, SMM, App Development
In order to define the objectives and develop a plan that results in a successful web design and digital marketing project, Top Notch Dezigns attends to their customers' demands by carefully observing their pain points.
The services they offer are as follows:
Branding
Web Design
Web Development
Digital Marketing
App Development
The agency's strong sense of creativity, aptitude for development and knowledge of digital marketing serve as the foundation for its relationships with clients.
Their six-step approach (Research, Discovery, Design, Content, Development, Optimization+Launch) provides enough leverage for any campaign, while the clients are kept informed at every stage about the outlook of the campaign.
Sunrise Integration - Keeping Businesses Competitive in a Connected World
Location: 6515 W Sunset Blvd Suite 320, Los Angeles, California 90028, United States
Average hourly rate: $150
Notable clients: Bombas, Rebecca Minkoff, DHL, Morphe
Expertise: Startups Web Design, BigCommerce Website Design, eCommerce Web Design, B2B Website Design
With a strong focus on eCommerce, logistics, SaaS software and more, Sunrise Integration's team of data integration professionals has been creating fully tailored corporate software solutions for over 20 years.
They provide premium services and SaaS products for all types of enterprises, ranging from API integration and software product creation to shipping logistics.
The agency's goal is to provide businesses with cutting-edge integrated custom software to help them compete in their industry by focusing on developing mobile applications for iPhone and Android platforms.
Full scope of services includes:
Shopify app development
eCommerce development
ERP and CRM
SaaS development
API integrations
Maintenance and support
Web Design and development
Mobile app development
Data migration
And more
The team is especially adept at developing innovative SaaS (Software as a Service) e-commerce and 3PL, API, and data exchange solutions for business software including ERP and CRM.
Exaud – Builds Precise Software Solutions
Location: Porto, Portugal
Average hourly rate: $50
Notable clients: Samsung, Facebook, Google, Blaupunkt, Presto
Expertise: Custom Software Development, Embedded Software Development, Mobile Application Development, Automotive Software Development
Reputable software development and technical consulting firm Exaud offers custom software solutions.
The business has more than ten years of expertise and works with Fortune 500 firms, big businesses and SMEs software development services.
The company specializes in a variety of industries, including:
Automotive & Manufacturing
Fintech & Financial Services
Healthcare & Life Sciences
Software & Hi-Tech
Media & Digital Education
Retail & Logistics
Exaud has a flexible pricing structure and engagement model, and it provides discounts based on the length of the contract and the amount of work.
RNO1 - Agile Digital Experience Design Agency Making Waves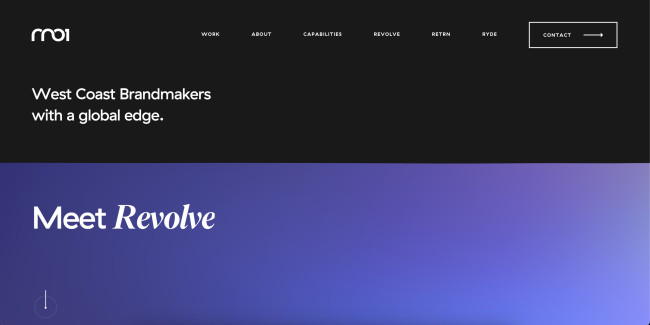 Location: 650 California Street, San Francisco, California 94108, United States
Average hourly rate: Inquire
Notable clients: Airbnb, Opus9, Pet Paradise, Wand
Expertise: Content Marketing, Social Media Marketing, Digital Advertising, UI/UX Design
The digital design experience agency RNO1 puts the growth of their clients first. Through agile thinking, they lead eCommerce & tech brands that are changing the game across platforms.
Working with companies from Acorns to Airbnb (and all those in between), the team is able to appreciate the importance of a growth mindset for modern tech and eCommerce organizations in all of their strategies and solutions.
Services include:
Branding and identity
Websites and digital platforms
Web3 experience design
eCommerce experiences
VR and AR environments
Utilizing the most cutting-edge technology platforms, from small to highly scalable, they create top-notch Digital CX (Customer Experience) with the help of our Client Partners (Founding, Product Marketing and Tech Teams).
Stoke Ventures - Helping Entrepreneurs Launch App Ideas
Location: Address, Raleigh, North Carolina 27603, United States
Average hourly rate: $50
Notable clients: Logitech, Hasbro, BYG, It's Happening App
Expertise: Software Development, Enterprise Software Development, Website Development,
Stoke Ventures provides exceptional web and mobile app design and development. Going above just providing solid development solutions, the agency's core focus is making software to increase efficiency within clients' organizations or to acquire users and generate revenue.
The team understands that the application's market success is the primary objective and all their efforts are aimed at that.
Services include:
Market research
Concept design
Pre-launch campaign
Detailed design
Prototyping
Crowdfunding campaign
Manufacturing and logistics
And more
In addition to having graphic design, user flow, UI/UX and full-stack development experts, Stoke Ventures also houses seasoned marketing and sales professionals who understand how to successfully launch apps, acquire users and quickly scale solutions towards profitability.
Digital Silk - Focuses on Growing Brands Online
Location: Miami, FL, New York City, NY, Chicago, IL, Milan, Italy
Average hourly rate: $125
Notable clients: HP, Microsoft, Amazon, Xerox
Expertise: Branding, Digital Strategies, Web Design and Web Development, Digital Marketing
Digital Silk is a top-tier digital agency dedicated to providing its clients with the best possible digital experiences.
To ensure success and a proactive approach to every project, the agency assigns a team of leading industry specialists to their clients.
Services that they offer include:
Brand & digital strategies
Custom web & app development
Integrated marketing strategies
Cutting-edge software development
Digital Silk's main focus is providing clients with measurable results and assisting them in expanding their online presence and conversion rates. To enhance customers' online and offline customer experiences, the agency takes ownership of each project and incorporates proprietary digital tactics designed for each client's unique needs.
Frank. - Digital Marketing That Delivers Growth
Location: 1223 North Classen Boulevard, Oklahoma City, Oklahoma 73106, United States
Average hourly rate: $126
Notable clients: Marriott, Sonic, CBD Pros, VAST
Expertise: Brand Strategy, Graphic Design, Direct Marketing, Web Design, Print Design
Frank. started as an Oklahoma City-based video production company in 2014 and has since grown into a full-service advertising agency.
Dedicated to producing high-quality products and believing in the value of innovation, the agency is committed to giving their customers the best service in any industry, facing any challenges.
Frank.'s list of services covers:
Web development
Web design
SEO
Brand Design
Graphic Design
Media Planning
Media Buy
Video Production
And more
The agency provides progress updates to their clients in as many iterations as they request, while continuously assessing the position of their brand and periodically checking in to measure what's changed, what's working and how they can improve.
Subscribe to Spotlight Newsletter
Subscribe to our newsletter to get the latest industry news