Microsoft just unveiled a public preview of its new productivity app that will rival the likes of Notion and Evernote. The new Microsoft Loop merges components, workspaces and pages all in one hub.
"It's a transformative co-creation experience that brings together teams, content, and tasks across your tools and devices," the company wrote in a blog post.
The Microsoft Loop app has launched in preview!🚀🚀🚀

Try it now: https://t.co/9fBospvvL8#MicrosoftLooppic.twitter.com/KBaz1aYUav

— Microsoft Loop (@MicrosoftLoop) March 22, 2023
Like Notion, Microsoft's new service gives users access to everything they need for a project in a single workspace. It houses features that make it easier to add or remove blocks of content from your workspace and organize them into readily viewable pages.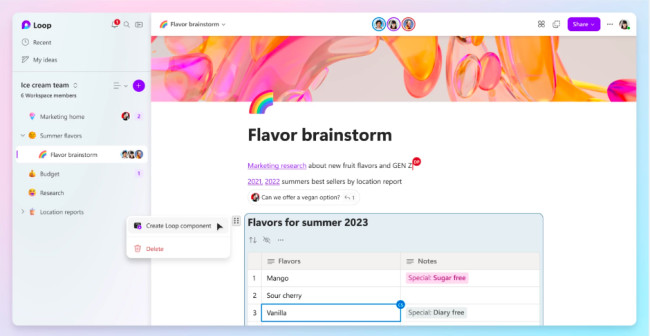 Loop components let users collaborate while in a chat, email, document or online meeting. From there, they can create lists, tables and notes that will stay synced across all of a user's Microsoft 365 apps.
Loop pages are versatile canvases where users can organize components and add links, files or data. Loop workspaces gives users an overview of all their projects and allows them to group them according to their preferences.
The all-in-one organizational app also houses special search features that recommend users and their co-workers documents to add into a workspace. Up to 50 people can edit a workspace and react and comment to edits at a time.
'Copilot,' a set of AI features that the company revealed last week, will also be integrated into Loop. While still in private testing, the company shared that Copilot will give users suggestions when it comes to brainstorming, blueprinting and editing in apps like Outlook and Teams - all while keeping everyone in sync.
Microsoft Loop is available as a public preview to users with a Microsoft Account or Azure Active Directory account and will be supported by iOS and Android.
Subscribe to Spotlight Newsletter
Subscribe to our newsletter to get the latest industry news