In light of Microsoft's proposed acquisition of Activision Blizzard, the company has clarified its stance with a pro-union ad in The Washington Post.
The company took out a full page in the Washington-based print edition and shared an advertisement titled "A new year opens new doors," which depicts a message from Microsoft co-signed and supported by Communications Workers of America, a union that recently worked with Zenimax QA workers to form Microsoft's first union.
This is one of Microsoft's many moves to publicly support workers' unions, further working to promote its worker-friendly reputation in the industry.
"As we enter a new year, we remain committed to creating the best workplaces we can for people who make a living in the tech sector. This is in keeping with new groundbreaking labor neutrality principles that the Communications Workers of America and Microsoft established last year," the ad states.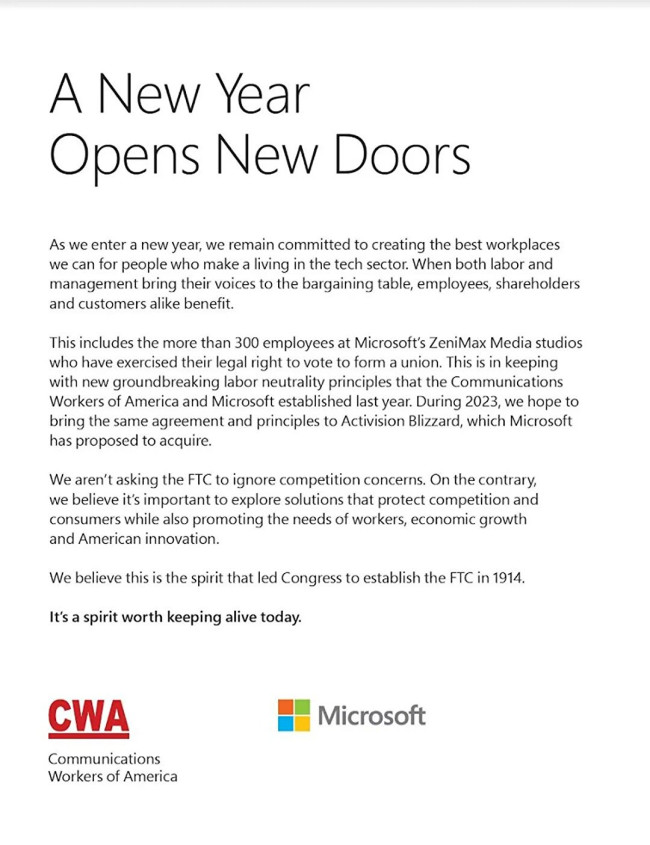 Microsoft's public support of labor rights is in stark contrast to Activision Blizzard's approach to the same topic. The latter has become well-known as a company familiar with union busting. Both the CWA and the US National Labor Relations Board have accused Activision Blizzard of union busting and illegally threatening staff involved in unions.
Although Microsoft has run into roadblocks by the FTC in the $68.7 billion acquisition of Activision Blizzard, the Washington Post ad could be a subtle way for them to promise to make good if the acquisition goes through. A sentence from the advertisement directly referring to the Federal Trade Commission could be seen as a possibility of cooperation with the regulatory agency when it comes to the Activision Blizzard acquisition.
"We aren't asking the FTC to ignore competition concerns. On the contrary, we believe it's important to explore solutions that protect competition and consumers while also promoting the needs of workers and economic growth and American innovation," Microsoft says in the print ad.
The acquisition is currently delayed due to a lawsuit by the FTC.
Subscribe to Spotlight Newsletter
Subscribe to our newsletter to get the latest industry news