DesignRush has announced its April selection of Best Design Awards!
April's Best Design Awards recognize innovative design by design agencies around the world and in a variety of industries, from logo design to print and packaging.
From interactive apps and websites to a lively print design representing culture and art, this month's selection is a reminder that functionality is just as important as an innovative aesthetic.
Submit your best designs for a chance to be featured on DesignRush!
GET STARTED
Love Media took the crown for its design of Talbica: Interactive Chemistry's website, creating both a dynamic and educational interface that puts online chemistry lessons in the spotlight.
Talbica: Interactive Chemistry takes interactive website design to the next level with impressive visuals, an attractive and color-coded display of the periodic table and immersive elements. Inspired by a real-life laboratory setting, Love Media offers users the option to learn more with every click they take, leading to more information, new tabs and the ability to customize your view based on your interests in up to 10 lessons.
Talbica: Interactive Chemistry's website serves as a reminder that online learning can be just as inspiring with the help of a game-like interface and the help of top web design companies.
As a fashion brand focused on golfing attire, Woolf wanted its logo to display the quality of its products – minimal, luxurious and elegant. Peter Melead's logo design inspired by the shape of a wolf's face resulted in exactly that.
Melead combined the outlines of a wolf's face shape and the shape of wool texture, a key element for Woolf which prides itself on using high-quality merino wool. These unique symbols are combined through monochromatic coloring and a minimalist style, resulting in an elegant and timeless logo.
In line with the most luxurious brands, Woolf's logo design presents customers with something memorable while getting to know the sportswear brand.
To highlight Coimbra's identity in a competition for the European Capital of Culture title in 2027, Grafema Design prepared a series of print designs showcasing the city's vibrant atmosphere. Although Évora took the title home, Coimbra 2027's print designs still stood out.
Bold colors and geometric shapes take center stage for the Coimbra 2027 print designs with a complementary combination of pastel and solid colors creating an energetic design reminiscent of popular art movements throughout history. A bold Sans-serif typeface balances the dynamic print design dedicated to Coimbra's cultural scene.
Grafema's print design for Coimbra 2027 presents an invigorating and lively aesthetic that can be applied to an array of products.
Aleksandar Volodkovich's app design for the Smart Residential Complex App offers a uniquely simple approach to smart living.
Presenting a one-in-all solution app for home management, the app's design is primarily focused on functionality. A dark-themed interface features two separate sections, "My House" and "News." Minimal icons, a simple and legible typeface and the occasional use of a digital-forward shade of blue enunciate a user-friendly app created to make your life easier.
Besides its clean aesthetic, the Smart Residential Complex App took this month's Best App Design Award for its unparalleled user experience in home management.
Creative design agency DD.NYC received April's Best Package Design Award for the elegant Symphony Sleep mattress packaging. The tall rectangular box showcases the brand's values at first sight.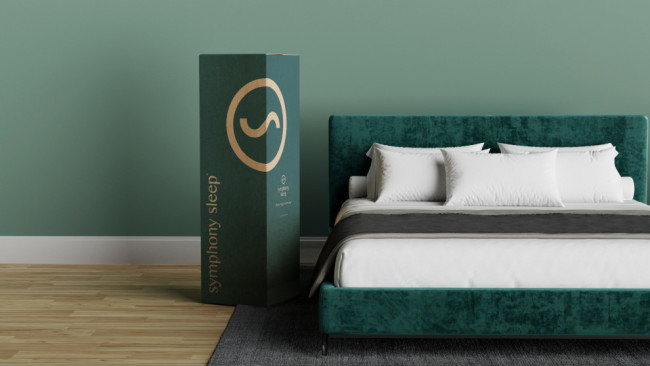 Typography and visuals are combined to present a picture of a product intended to evoke a feeling of calm and quiet luxury in consumers. The dark-green packaging color and gold typography are reminiscent of the colors of the natural world while remaining elegant.
Additionally, the shape of the packaging allows for easy unpacking with an easy-to-open four-piece top, an innovative approach that can only be thought of by one of the top packaging design companies.
Brandefy solved Indie Semiconductor's need for an eye-catching logo with a 3D animated logo video design that distinctly matches the company's personal branding.
With the help of seamless transitions and impressive visual elements, the video design offers a unique approach to creating a brand logo. The starting animation of light passing through semiconductors immediately reminds users of what Indie Semiconductor is all about, while the color choice of black and neon green evokes a feeling of modernity.
Indie Semiconductor's dynamic video design by Brandefy will surely be memorable and offers an innovative approach to 3D animation in branding.
Subscribe to Spotlight Newsletter
Subscribe to our newsletter to get the latest industry news