On October 26, during the unBoxed 2022 conference, Amazon ad announced several new video and streaming options for advertisers on the platform.
Amazon's Sponsored Display service will now include video for companies looking to enhance their ads with media.
The press release refers that new options will allow brands to "deliver immersive video ads, such as tutorials, demos, unboxing and testimonials and measure campaign performance with standard Sponsored Display metrics."
Amazon will also make Sponsored Display available to brands looking to use the service on other platforms, like the streaming platform Twitch.
Restaurants and hotels were examples of brands that might be interested in using the enhanced video service.
The Video Builder's beta version, available since last July, has also been expanded. The service includes customisable templates and several tools, that should allow brands to "create more engaging ad content".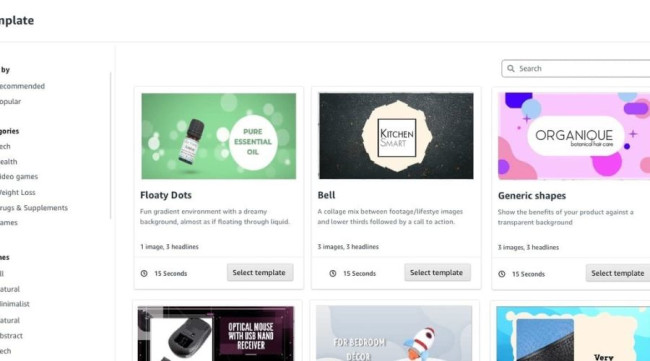 Regarding Video Builder, Vice President and General Manager of hOmeLabs Phil Lepper said they used the tool to launch "three new campaigns in 30 minutes," allowing the company to "adjust messaging for the variations in product size."
The campaigns reportedly resulted in a click-through rate of 4.49%, with a 15% advertising cost of sales, "which was more than a 100% improvement over similar campaigns without videos."
Amazon Streaming TV was also mentioned during unBoxed 2022, and will now feature a post-campaign reporting solution to help brands measure the incremental audience reached.
The solution will reportedly ensure "accurate, aggregated results by combining first-party and third-party signals, augmented by machine leaning-based-projections."
Amazon also used unBoxed 2022 to discuss interactive video ads, and how they feature multiple customer call-to-action (CTA) tools. These include options like "Add to basket", "Add to List, "Buy this" and "Shop now". Brands not selling on Amazon can use a "Send me more" solution, allowing to send more information via email or through a QR code.
Finally, the Freevee app on Fire TV includes a new Welcome Screen, currently on a beta version, allowing advertisers a seven-second window to showcase their products in full-screen, while the app starts.
You can read the full press release right here.
Subscribe to Spotlight Newsletter
Subscribe to our newsletter to get the latest industry news