As the new CEO at Reward Gateway, Nick Burns wishes to empower the company's 600+ employees worldwide, using his vast experience to reach that goal. Previously, Nick Burns was the CEO of Gallagher's UK Employee Benefits Consulting Division and CEO of PIFC Group, Bluefin Corporate Consulting and Capita Employee Solutions.
Considering the talent shortages many industries are currently facing, among phenomena as the Great Resignation, it's perhaps more important than ever to find ways to attract talent and retain it.
Reward Gateway, announced Nick Burns as its new CEO last December, who specializes in delivering an "optimal employee experience," which is vital to keep employees' motivation and engagement levels high.
In the following interview, Nick Burns shares his goals for Reward Gateway, the importance of employee recognition and the transition to work-from-home and hybrid models. At the same time, he also reveals some of the high-profile clients working with Reward Gateway.
Spotlight: Congratulations on becoming Reward Gateway's new CEO! What are your plans for the company, given your extensive experience in the industry?
Nick Burns: Thank you - I'm thrilled to be here. What excites me most about Reward Gateway is our opportunity to really push the boundaries in the industry.
We have a market-leading product and an exceptional community of HR leaders, but I want to take that to the next level - focusing on how we evolve and innovate to deliver the optimal employee experience for their entire workforce. As a company, we have some ambitious goals which really excite me.
With my background and leadership experience at Gallagher Benefit Services, it's a natural fit for me to lead Reward Gateway to drive continued global growth in the engagement, recognition and well-being space.
My goal is to empower our 600+ employees around the world to fuel our mission to Make the World a Better Place to Work. Frankly, I'm only a few weeks in, so over the coming months, I will be all about quick learning, quick action and setting our agenda for the years ahead.
Reward Gateway shared Psychometrics's data stating that "more than 50% of employees believe that recognition is not only effective but the most effective way to engage them." Can you please elaborate?
We conduct bi-annual research studies at Reward Gateway, and our findings consistently show that recognition has a direct impact on motivation, productivity and retention.
70% of employees surveyed in our most recent study say that morale and motivation would improve if managers would simply say "thank you" more often, and 56% of employees list "a manager who cares" within their top two must-haves at work. That is truly powerful.
Recognition also has a hidden superpower to influence overall employee well-being, especially in times of high stress or for those who may be on the brink of burnout.
Recognizing great work not only motivates people, but it also helps them understand how they contribute to profitability and business growth.
How about talent acquisition? Considering the current talent shortage in several industries, how can recognition programs help businesses improve their hiring process?
The right kind of recognition -- programs that are strategic and inspiring -- is critical to attract talent and improve retention. Employers need to be bold and broadcast how they'll support their new hires and veteran employees so employees grow with your business rather than out of your business.
Our clients with strong recognition and reward programs can measure the impact of these programs on their business with increased (Employee Net Promoter Score) eNPS scores and lower turnover.
Reward Gateway has plenty of solutions and tools available to clients, including analytics. How easy are they to integrate and when should a company consider your services?
At the moment, we have more than 60 integrations with well-known (Human Resources Information System) HRIS software and communications tools, including Bamboo, Microsoft Teams, Yammer and ADP.
Our analytics capabilities give our clients a real-time look at how their employees are engaging with our suite of products, and everyone from the C-suite to team managers can benefit from these insights, such as what groups are receiving the most recognition -- these are your star groups, so what are they doing right?
And what groups aren't being recognized or are absent from engaging with your tools, and how can the analytics drive action to improve engagement? With analytics across all of our product sets, leaders can distill engagement insights to help focus internal comms and company-wide communications on what employees need most.
We have a wide range of clients across different sizes and industries, from a 30-person dentist organization to a dispersed telecommunications company of nearly 150,000 people.
These companies understand they need to pull some levers to engage their people more to get greater productivity and rally their people around their mission, but before Reward Gateway, they were hindered by a lack of resources or older manual systems and they needed to take their strategy and tactics to the next level.
We have a lot of clients that move from outdated spreadsheets to our automated, streamlined recognition and reward programs for a more consistent employee engagement experience. The ultimate aim is to help organizations drive their corporate performance objectives through their employees.
How did the transition from on-site to work-from-home models impact your services?
Reward Gateway is a global company with offices in the United States, United Kingdom, Australia and Bulgaria. Even before the pandemic, we were accustomed to working virtually across our business, including how we interacted and serviced our client base.
In order to accommodate the mandatory work-from-home restrictions when the pandemic hit, we ensured all employees had comfortable working environments by offering a "Work from Home '' benefit that reimbursed employees for office needs such as desks, chairs, monitors and other necessary supplies.
Though I wasn't the CEO at the time, the benefit was introduced to make everyone's home "office" as comfortable and helpful as possible so that they could do their best work, and we've continued to offer this to our new employees who may want to have more of a hybrid work environment.
The fact that our culture already supported virtual working and that we gave our employees the ability to create productive workspaces eased the move to 100% virtual service and support.
Ultimately, the pandemic showed us how productive we can be working virtually – with the right culture and technology to support our clients regardless of where and when they work, which is yet another way we are making the world a better place to work.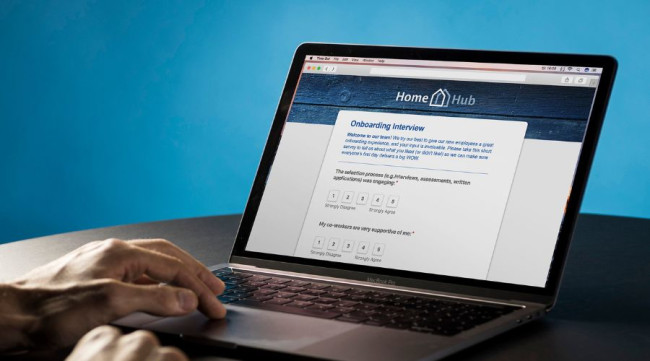 There have been quite a few debates regarding work-at-home models vs. office models. Do you have data regarding these models in terms of how they influence both employee productivity and engagement?
Our latest research shows flexible working as a continual top five motivator in employee "must-haves" outside of fair pay, so it's not going away as a benefit employers need to offer.
Reward Gateway has moved to a hybrid model, where most of our employees are in the office (if they're able to be) two to three days a week, and many of our teams have team-specific days where they hold larger sessions or workshops for collaboration.
We've seen this evolve among our client base as well. For example, Southern New Hampshire University (SNHU), an innovator in higher education with more than 150,000 learners, partnered with us in 2020 first to launch a unified reward and recognition program for their employees.
When the pandemic hit, their strategy shifted to ensure they were engaging their remote workforce on a platform that connected their teams with a powerful combination of R&R and communications that proved vital to keeping their teams connected and informed.
Since working with us, SNHU's annual employee opinion survey results and eNPS scores have improved, while employees have sent more than 16,000 eCards – all reflecting their newfound culture of appreciation. This is just one of the many stories we've heard from our clients leveraging our digital tools to fuel a remote or hybrid workforce.
Can you please share some examples of notable clients and how they are leveraging their collaboration with Reward Gateway?
A great example is DataBank, a managed service provider with facilities in 29 markets across the U.S. and Europe. They engaged with Reward Gateway as they were going through a period of tremendous growth.
Culture-driven to its core, DataBank wanted a platform that could unify reward and recognition, communications, survey and discounts to reflect what they call their Cultural Cornerstones and Leadership Behaviors.
The benefit of centralized yet segmented communications led to strong usage of the platform, significantly as the company grew by acquisition and the workforce became increasingly distributed. What's exciting to me is that, to date, more than 93% of employees have either sent or received recognition, and Databank has achieved a significant increase in employee satisfaction scores.
Other notable Reward Gateway clients in the U.S. include Comcast, Dental Care Alliance, Discovery Channel, University of Rochester and World Wrestling Entertainment.
Lastly, what's your favorite Reward Gateway program or service, and why?
What I love about the Reward Gateway platform is that it centralizes reward and recognition, communications, surveys and benefits all on one platform to support overall financial, emotional, physical, career and social well-being.
Combined, these provide the critical ingredients to deliver overall organizational wellbeing, the ultimate fuel for corporate performance.
Our most recent research study revealed that 84% of employees had experienced burnout that affects their well-being, with 69% stating that their well-being at work would improve if they were simply thanked more for their hard work.
That, for example, is the power of reward and recognition - people feel good when they give recognition and reward to co-workers and teammates, and it feels really good to be recognized and rewarded for hard work.
As a leader, it's all the more important to model this behavior from the top-down, since these workforce best practices ultimately drive engagement, productivity and results.
Thank you for your time, Nick Burns. Best of luck to you and Reward Gateway!
Keep up with Reward Gateway on LinkedIn and read about other successful businesses here.
Subscribe to Spotlight Newsletter
Subscribe to our newsletter to get the latest industry news